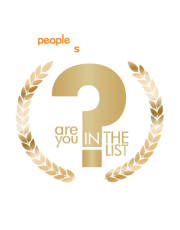 Getting awarded as an young HR leader is one of the most prestigious thing and work as a branding for you and also for your organisation.People matters and DDI has announced young HR Award "are you in the list"
Why it is important
Such award work as an HR branding tool for your organisation as well as do branding for you. Participation also provides lot of insight. you may also nominate somebody who is fit
About
"Are you in the List?"
India's first initiative to identify Emerging Future HR leaders is back again!
After successfully sifting out the crème de la crème of young HR leaders for the last 3 years – People Matters initiative in association with DDI – "Are you in the list 2015" is back with yet another intense qualifying application process, with a series of assessments and a competitive race to find today's emerging leaders in HR. A platform for HR managers to showcase their potential and get recognized as the "Emerging Future HR Leaders".
If you are a young HR leader or aspire to be one, and if the below criteria mirrors you – Be a part of the list!
Age group of 26- 35 (as on 31st January 2016)
Minimum work experience of 3 years. (as on 12th June 2015)
Working in HR role as on date
If you have it in you and want to better yourself, compete to be amongst the chosen "Emerging Future HR Leaders" in India, come join the list!
What is the process and how to apply
Application Process

STAGE 1
1A (Online Application): Candidates register online by submitting their details and by following the online application process.
1B (Application Form): Applicants would be taking the Online Application test
1C (Virtual Simulation – iLead): The candidates will undergo a real life-like simulation test by KNOLSKAPE. This test will identify the candidates' ability and readiness to be effective as an HR professional. The qualified candidates will proceed to stage 2 of the Awards process.
12

th

June – 26

th

August
Result announcement: 11

th

September

STAGE 2
Cognitive Ability test: DDI's Cognitive ability test will follow for eligible candidate which is a tool for online assessment of one's cognitive ability as it relates to success on the job. The qualified candidates will proceed to stage 3 of the Awards process.
9

th

September – 18

th

September
Result announcement: 23

th

September

STAGE 3
Leadership Assessment (Manager Ready): The shortlisted candidates undergo DDI's online Leadership Assessment. This is a tool to identify the candidate's readiness to take managerial roles. The top candidates from this assessment will further proceed to stage 4 of the Awards process.
28

th

September – 13

th

October
Result announcement: 26

th

October

STAGE 4
4A (Video Interview): The shortlisted candidates will be required to record their video, answering pre-determined questions on Video Recruit platform to assess whether the applicants display the required competencies for which the automated interviewing process is used.
26

th

October – 10

th

November
Vetting the Insights: This stage will involve scrutiny of the information provided by the shortlisted candidates on the basis of insights from the HR competencies. The shortlisted candidates will move to the next stage of the Awards Process

STAGE 5
5A (Business Case Study): In order to further assess skills required to be a successful HR Leader, DDI will evaluate selected individuals on their business acumen by conducting a mini-assessment using a business case study method. This stage may also include a personality inventory which measures attributes or tendencies that can either enhance or derail one's leadership effectiveness.
4

th

December – 18

th

December
5B (Face off with the Panel): This stage will sight a one-on-one meeting of the Jury with the finalists which will lead to identifying the Emerging Future HR Leaders of 2015.
4

th

January – 15

th

January

Awards & Recognition
The selected Top Emerging Future HR Leaders will be recognized in a formal event in the presence of HR veterans of the country.
22

nd

January 2016
For details, please visit: http://areyouinthelist.peoplematters.in/registration/process